WHAT ARE INSPORTS DAYS?
​By providing free sports clinics throughout the year, all kids, regardless of their financial status receive an opportunity to get in the game.
Professional Partnerships
Not only do we introduce kids to new sports, we create a fun atmosphere where they learn the importance of staying active, healthy eating, and setting goals, in result encouraging them to become confident and successful team members of their community.  
FREE
We believe that financial barriers should not stop you from getting in the game. All InSports Days, including days with professional sports teams, are free to attend!
HEALTHY EATING
We provide students with a healthy eating session, a snack they take home life as well as skills they can continue to use.
PROFESSIONAL PARTNERSHIPS
Partnering with professional Minnesota sports teams gives us an opportunity to invite attendees to a sports experience following the sports clinic.
GOAL SETTING
We want these young athletes to go above and beyond. In order to help them do so, we help all participants understand the importance of setting goals. Each InSports Day participant goes home with 3 written personal goals
"The event was amazing. My son still talks about it at least once a week.  I appreciate you all sponsoring the event."
"Thank you for coming out to Camp Rocks again this summer. It's a highlight for our students."
"The activity I liked most was  goal setting because goal setting is awesome and it made me feel powerful and strong."
"One thing I learned from the InSports Day was to be confident in yourself. I loved capture the football because I scored a touchdown and it was intense and hard."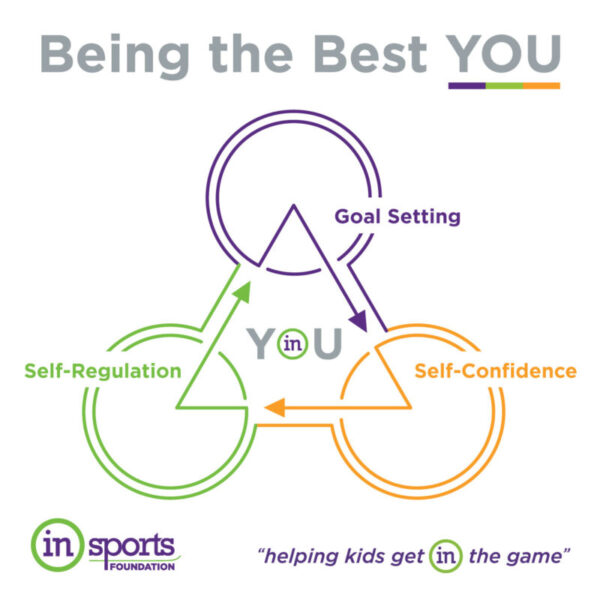 Our Curriculum
All of our InSports Days include a "Being the Best You" session. The program includes three important pillars: Self-Regulation, Self-Confidence, and Goal Setting. Through various exercises kids will learn different techniques to help them develop each of these crucial areas and become the best they can be!
"You can't control how you feel, but you can always control how you act" -Mel Robbins
2023 MTA INSPORTS DAY
2023-11-27T15:50:11+00:00
2023 SUMMER INSPORTS DAYS
2023-10-11T16:12:09+00:00
2023 MN TWINS INSPORTS PRO DAY
2023-10-11T16:12:30+00:00
2023 TRY HOCKEY FOR FREE SARTELL
2023-06-28T13:44:52+00:00
2023 SIOUX FALLS CANARIES INSPORTS DAY
2023-07-10T20:03:40+00:00
2023 INSPORTS PLAYGOLF PROGRAM
2023-08-16T17:56:48+00:00
2023 NATE PROSSER HOCKEY INSPORTS DAY
2023-10-11T16:13:46+00:00
2023 COMET'S KIDS CLUB BASKETBALL CLINIC
2023-06-07T22:52:45+00:00
2022-2023 SIOUX FALLS STAMPEDE HOCKEY CAMP
2023-02-10T21:17:12+00:00
2022 SUMMER INSPORTS DAYS
2023-02-15T17:16:38+00:00
2021-2022 SIOUX FALLS STAMPEDE HOCKEY CAMP
2022-01-21T19:33:48+00:00
2021 3M OPEN GOLF CAMP
2022-12-22T20:36:10+00:00
2020 RISEN CHRIST CATHOLIC SCHOOL MORNING PROGRAM
2023-03-21T20:25:22+00:00
2016 MN UNITED FC INSPORTS DAY
2023-03-21T21:22:02+00:00
2016 MN LYNX INSPORTS DAY
2022-12-02T18:27:28+00:00
HOPKINS INSPORTS WEEK
2022-12-02T17:32:27+00:00
2015 MN UNITED FC INSPORTS DAY
2022-12-22T20:37:08+00:00
2015 CONCORDIA COLLEGE INSPORTS DAY
2023-08-18T17:11:55+00:00
2014 INSPORTS HOCKEY CAMP
2022-12-02T16:14:56+00:00