At the InSports Foundation, our mission is clear: to provide children with opportunities to participate in sports, cultivating confident and successful leaders within their communities. Today, we are thrilled to announce a significant step forward in achieving our mission – our partnership with Athlusion. The InSports Foundation kickstarts young athletes' careers during their formative years, while Athlusion ensures their success extends into the professional world long after their athletic journey concludes. Athlusion shares our commitment to empowering athletes and believes in positively impacting the global corporate landscape. Their mission aligns perfectly with our goals, as they specialize in easing the transition from being a player to becoming a successful business professional by connecting athletes with prospective companies.
About Athlusion
Athlusion is on a mission to empower athletes to achieve success not only in their sports careers but also in the global corporate landscape. Their unique approach involves identifying the distinct qualities and skill sets of athletes and helping them transition seamlessly into the business world by connecting them with prospective companies. From the corporate perspective, Athlusion seeks candidates who possess attributes that can elevate a company's performance. They foster a growth mindset by building meaningful relationships, leveraging athletes' social media channels for growth, and maintaining a strong presence on their own social media platforms. Founded on five core values, Athlusion is the brainchild of George Padjen and Chad Welk, who have dedicated two decades to perfecting their evaluation techniques and creating a network of highly qualified student athletes. Their platform benefits both athletes seeking career opportunities and businesses in search of vetted talent.
InSports x Athlusion Collaboration
The heart of our partnership with Athlusion lies in our collaboration on our exclusive apparel collections. These collaborations are all about making a difference in the lives of young athletes and aspiring professionals. The unique collections are a result of a true collaboration between InSports, Athlusion and their network of athletes. Each item has been carefully designed to reflect the essence of sportsmanship and the dedication it takes to excel both on and off the field.
What Makes it Special?
Exclusive InSports x Athlusion Patch: Each item in the collection proudly bears the exclusive InSports x Athlusion patch, symbolizing our shared mission of empowering athletes.
Direct Support for the InSports Foundation: The best part is that every purchase from the "InSports x Athlusion" collection directly benefits the InSports Foundation. A portion of the proceeds from these sales will be donated back to our foundation, allowing us to continue our mission of helping kids participate in sports.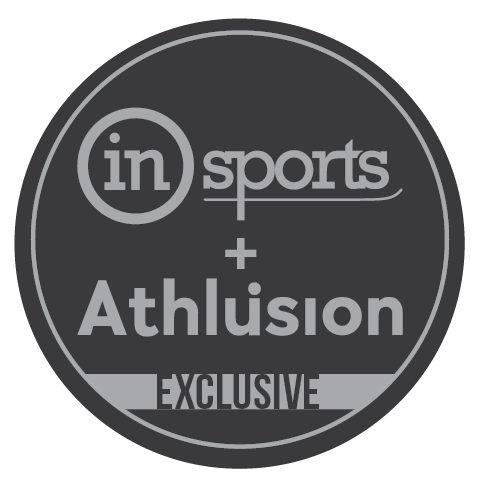 OUR COLLECTIONS
By choosing to wear InSports x Athlusion apparel, you're not just making a fashion statement; you're making a statement about the future of young athletes. Your support contributes to the growth and development of aspiring athletes, enabling them to reach their full potential IN the game.Our partnership with Athlusion opens up new avenues for us to empower athletes and kids alike. Together, we can create lasting impacts in the lives of all student athletes, helping them excel both in sports and in their future careers.
Thank you for your continued support of the InSports Foundation and our mission to make sports accessible to all. Together, we're building a brighter future for young athletes everywhere. Stay tuned for updates on this incredible collaboration!